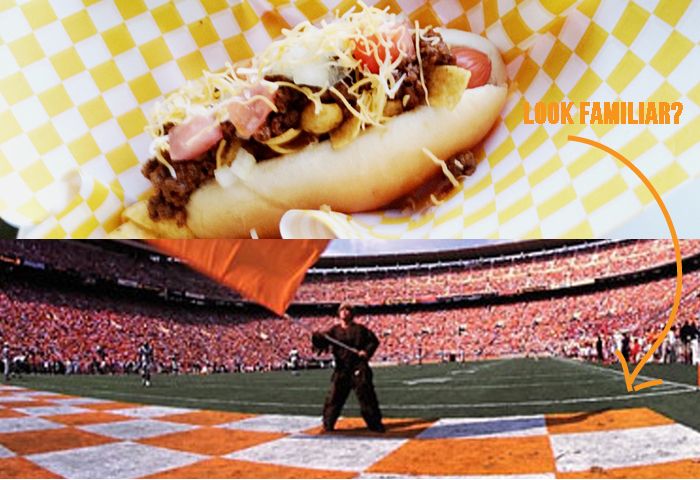 I said it's great, to be, a Tennessee Vol!"
Do you feel that? That rumble in your seat, that rushing, "Ahhhhh" of a crowd ready for some TENNESSEE FOOTBALL?!?!? If you didn't know, it's football season. And for those of you just now stopping by BS, I'm a huge Tennessee football fan and UT alumna. Saturday we play those Georgia Bulldogs and I needed something perfect for the occasion. Clearly we're gonna eat up the competition (probably not but it's nice to dream) so what's more fitting than a Hot Dawg? And to add a little college nostalgia I'm topping my dog with some Petro's.
For anybody who has ever been to
Neyland Stadium
knows you can't leave without stopping by the
Petro's
food stand. Some may call Petro's, Frito pie which consists of corn chips, chili and as many toppings as you like. And my college throwback doesn't just stop with Petro's. My chili also has a little Natty Light to give it that something extra. I used the
Texas Chili Recipe
from my previous post but I've decided to outline exactly what chili's I used since it's different from the original recipe.
Ingredients
hot dogs
buns
corn chips
tomato (chopped)
onion (chopped)
cheddar cheese (shredded)
2- Dump Chili (original inspiration
here
)
1 lb ground beef
½ can of Natural Light or Ice beer (or any other cheap beer not meant for human consumption)
1 can beef stock
½ large onion chopped
2-3 garlic cloves
1st dump
1 tbs paprika
1 packet Goya beef boullion
1 packet Sazon Goya
3 bay leaves
salt
1 tsp brown sugar
2nd dump
2 tbs De Arbol chili pepper
1 tbs New Mexico chili pepper
1 tbs paprika
½ tsp Ancho powder
¼ tsp cayenne
*****I highly recommend buying
Dave's Gourmet 6 Pure Dried Chile's
because most of these powders are in this 6 spiced seasoning shaker. I don't know about you but it hurts my pocket to pay 6 bucks for a tiny bottle of seasoning. I found Dave's 6 pack seasoning at World Market for a fraction of the cost.
1. Brown beef in a large saucepan. Once browned, drain chili in a colander and set aside in separate bowl.
2. Saute onion in beef drippings for a minute and then add the garlic.
3. Once onions are a little browned add the beef and the 1st dump of seasonings.
4. Add enough beer to saturate the beef. Also add half of the can of broth. Let simmer for about 30-45 minutes on medium-low heat.
5. After the meat has simmered, add the 2nd dump of chili, the rest of the beer and broth. Really you can add as much beer as you like. Just taste in between each spice dump and figure out how strong and intense you want that flavor to be. This is cooking friends. I told you I'm not precise in measurements at all. Have fun with this.
6. Let this mixture cook for another 30 minutes or so. The longer this cooks the more intense and rich the flavor will become.
Putting it all together
1. Have your dog in the bun.
2. Put the corn chips first
3. Then the chili.
4. Then add your toppings. I used onions, cheese and tomatoes. You can use sour cream or jalapenos if you'd like.