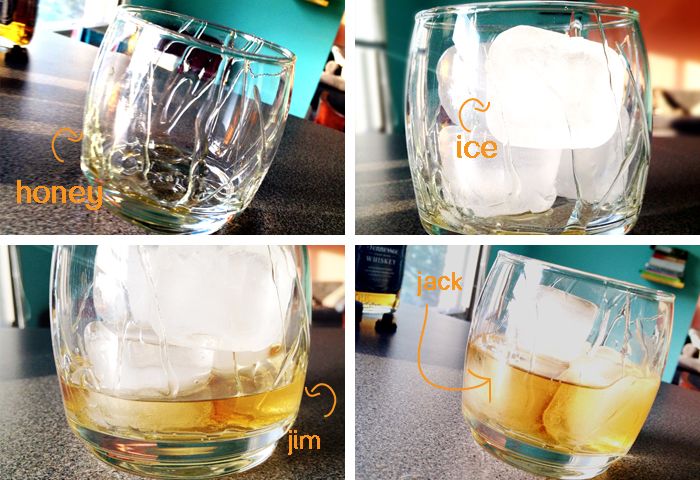 Thirsty Thursday! I'm bringing you a whole lotta drunken pumpkin today. With the sweet autumn smell of pumpkin in the air everyone is trying to get in on this pumpkin action. Aside from your Starbucks and Dunkin' Donuts (my loves), beer is taking a dip in the pumpkin fountain too. I'm sure it's been around for a while but I'm just now noticing how many breweries serve up a pumpkin brew.
Well in this Pumpkin Ale Cocktail I chose
Dogfish Head's
Punkin' Ale
. Alone, it tastes just like pumpkin pie. In fact they've incorporated real pumpkin, brown sugar, allspice (which isn't all spices), cinnamon and nutmeg. And you know I had to give a shoutout to Tennessee and added my good friend Jack to the libation and his neighbor Jim from Kentucky.
Now if you can't get your hands on Punkin' Ale, Sam Adams has
Harvest Pumpkin Ale
and I'm sure there are countless others.
Ingredients
Punkin' Ale
1 shot Jack Daniels
1 shot Jim Beam
Honey
Ice
1. Grab a glass and drizzle some honey along the sides of it.
2. Put some ice in that glass.
3. Throw a shot of Jack and a shot Jim in the glass.
4. Pour some ale to the top of whatever glass you are using.
5. Stir do not shake the mixture. Since it's beer you don't want to agitate all of that carbonation by shaking the cocktail. The honey may not be fully dissolved at this point but you will get a little bit of sweet each time you take a sip. And might I say, after the first two sips of this cocktail I was already off to Tipsy Town?!
***Side-note time: This is a formal thanks to

Anisha J-Indiaaaa

for helping me name my dessert category, "Sugar Rush." You should heard her other suggestions. Not quite appropriate for a PG and often PG-13 audience.