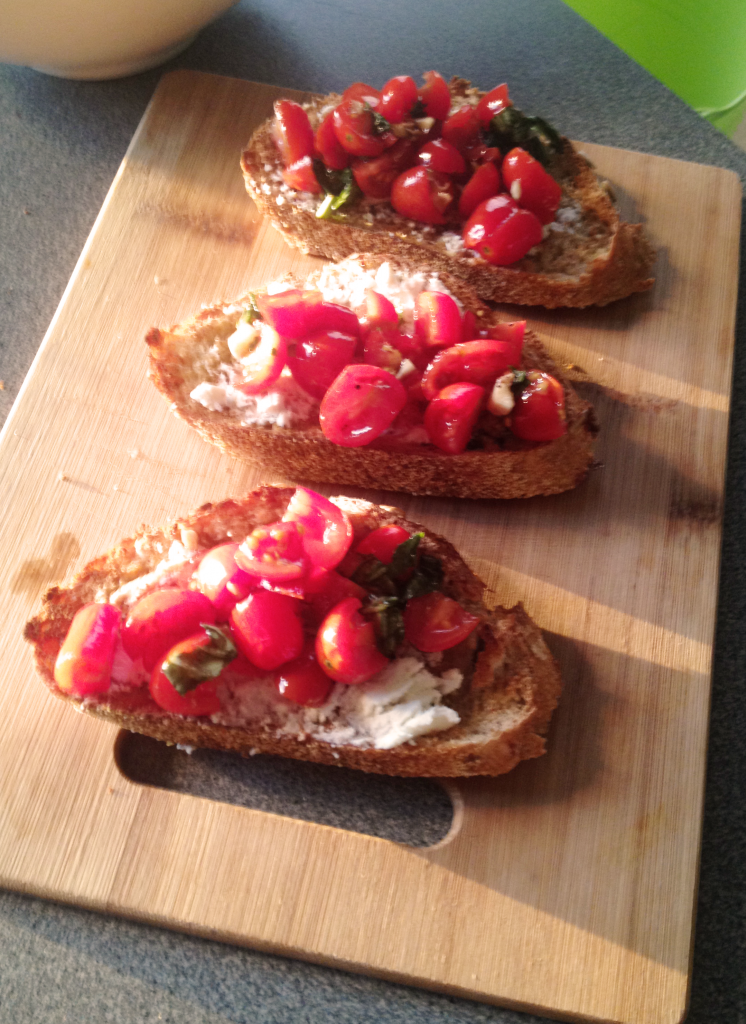 Oh my word it has been forever since my last post. I'm just going to keep this post short and sweet and give you the straight up ingredients and whatnot. I'll save my best anecdotes for my Freindsgiving posts in the coming week. I'm so excited. I already bought the turkey!!!
Ingredients
1 medium tomato chopped (I used a few cherry tomatoes), 1 garlic clove (2 if you like it pungent. I used two :), 1/4 cup balsamic vinegar (roughly), 3-4 tbs Extra Virgin Olive Oil (EVOO), 1-2 tbs chopped fresh basil, plain goat cheese, a hardy baguette, salt and pepper
Directions
1. The directions are super simple. Combine all of the ingredients except for the goat cheese and bread in a bowl. 2. Refrigerate for an hour or two. Maybe more. 3. Prepare your baguette by cutting it into thick slices. Drizzle a little EVOO over each piece of bread. Broil the bread for abut a minute or two. 4. Once bread is out of the oven, spread each piece of bread with a dollop of goat cheese. 5. Take the bruschetta out of the refrigerator and top each piece of bread with a little of the mixture. 6. Pour yourself a glass of wine and freaking eat the hell out of that bruschetta! Nom nom nom nom...