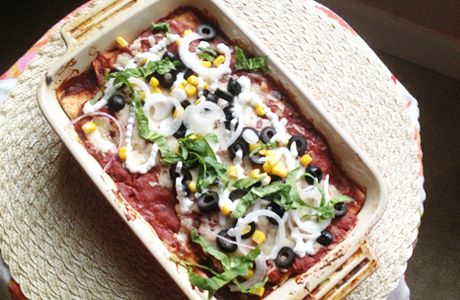 What I loved most about being an army brat is what some people might think I would like least, traveling. Traveling from state to state, country to country, and having to be at a new school every 2 to 3 years isn't ideal for many people growing up. But what's great about traveling to new places is experiencing new foods. While I was too young to fully experience the food there, I think my parents really fell in love with Mexican food while stationed in el Paso, Texas. The layers of flavor topped with gobs of cheese made its way into many dishes growing up. I will mind you that it's probably more so Tex Mex food that we loved. I don't want to insult the Mexican food purists out there.
Nonetheless, Mexican food or Tex Mex food remains on my list of all time favorite cuisines. This enchilada recipe comes from my mind bank on those days when I want something yummy, homemade and readily available. When you look at the recipe it may seems a little daunting with all of the ingredients. Please don't run away! This is actually a very simple, rich dish that will soon become a staple in your home.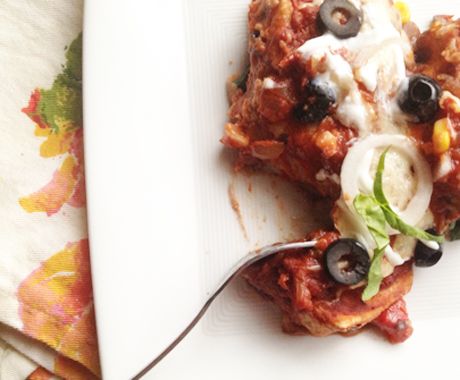 Enchilada Sauce
1 28 oz can crushed tomatoes
¼ tsp del arbol chili (or any other type of chili powder)
2 tbs apple cider vinegar
1-2 cups shredded jack cheese
1. To roast your veggies, cut the onion and bell pepper in half. 2. Separate the vegetables into two different wide strips of foil. 3. Drizzle each vegetable with olive oil and salt. 4. Wrap the veggies in the foil and roast in 400 degree preheated oven for about 30 minutes. 5. After 30 minutes let the bell pepper cool in a ziplock back and the onions, simply on a cutting board. 6. After about 10 minutes take the pepper out of the bag and peel off the skin. The plastic bag trapped the steam of the pepper, loosening the skin from the meat of the pepper. 7. Dice the pepper and onion and set aside.
1. Begin to prepare the sauce by sauteing the garlic and onion in the oil in a medium sized saucepan. Add some salt and pepper. 2. Once onions and garlic become fragrant and translucent, add the flour and stir for about a minute. 3. Next add the tomato sauce and the rest of the spices and vinegar. Let simmer on medium, low heat for about 20 minutes. I covered my pan with a lid to keep the tomato sauce from splattering everywhere. 4. After 20 minutes, turn the sauce off and let cool while you prepare the beans.
1. In a small saucepan, saute the onions and garlic in oil until fragrant. 2. Add the can of beans, with its juices, into the saucepan. 3. Add the remaining spices. 4. After you let cook for about a minute mash the beans with a potato masher or spoon. I used my immersion blender to do this. 5. At this point if the beans are too thick add a tablespoon of chicken stock at a time. I added two tablespoons which probably was too much. The mixture was a little soupy, but useable.
1. Find a medium sized casserole dish and place about a half of a cup of the enchilada sauce at the bottom. 2. I had fairly big tortillas so I cut them in half. 3. Dip one half of the tortilla in the sauce (the sauce from the saucepan not the casserole dish) and place on a plate. 4. Then place a spoonful of beans in the middle of the tortilla, then some onions, pepper then cheese. 5. Roll the tortilla and place into the casserole dish. 6. Repeat steps 3 through 5 until you have filled your casserole dish. 7. Cover the tortillas with the remaining sauce. I had a little sauce left over as I didn't want a really thick layer of sauce left. 8. Add about a cup of the cheese on top of the casserole dish. 9. Bake the enchiladas in a 350 degree oven for about 20-30 minutes or until cheese is bubbly.
***Alternative: A few days after making this recipe I made the enchiladas with tomato sauce instead of crushed and with beef instead of veggies. That was incredible version as well. Don't be scared to experiment.