So, originally I didn't plan on doing a Valentine's Day blog, simply because I knew everybody was hopping on that red rose covered train. But this past weekend I was watching a lot of Food Network and Cooking Channel TV and it felt like every chef was making pots de creme. I've never heard of the stuff before but I'm sooo much happier now that I have. I'm in love with rich and decadent chocolate desserts and this hits the nail on the head.
I chose to go with
Aarti Sequeria's
sriracha pots de creme because it didn't require baking. We all know how much I love baking. That would be sarcasm if you couldn't tell. I did, however, make a few adjustments to take what would have made six portions and made it into two. The goal was to have only one portion because, well, it's just me for Valentine's Day. Womp womp. But of course with my luck, I made two. Soooo, this recipe is perfect for all of you lovebirds out there.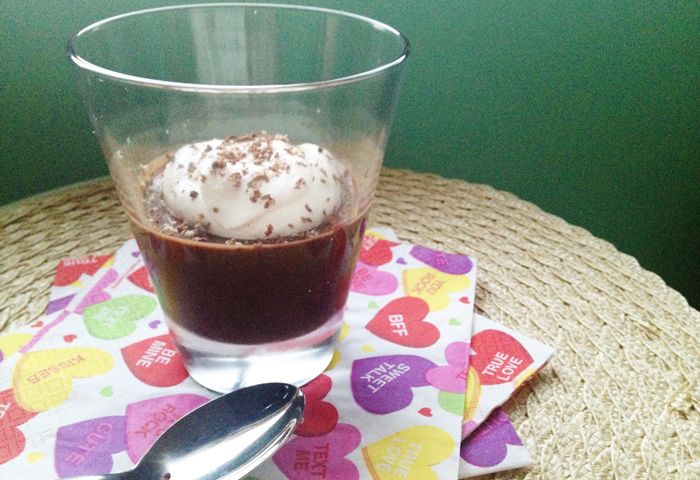 ½ cup chocolate-almond spread (much like nutella but w/out the hazelnuts), 2 tbs chocolate chips, ¾ cup whole milk, ½ cup heavy cream, 2 tbs sugar, ½ tbs brewed coffee, a couple dashes of sriracha, ¼ tsp vanilla
I followed Aarti's recipe
instructions
exactly. I suggest going to this recipe page as i'm sure I will forget a step.