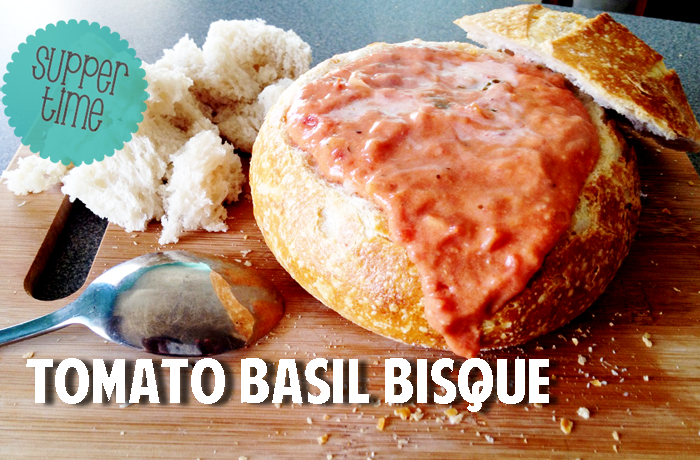 The days are getting shorter and the nights a little cooler. You know what that means? It's time to break out the adult onsie and curl up with a huuuge bowl of soup! I know you think I'm joking about this onsie, but I'm not. It's seriously comfortable.
Anywho, it's Soup Week on BS and I'm starting with one of my favorites, tomato soup. Of course I couldn't do just any old tomato soup. I decided to go with this warm, velvety Tomato Basil Bisque. Adding a bit of half and half made this soup amazing and creamy. What made this even better was the sourdough bread bowl I chose as my vessel for the bisque. Yum!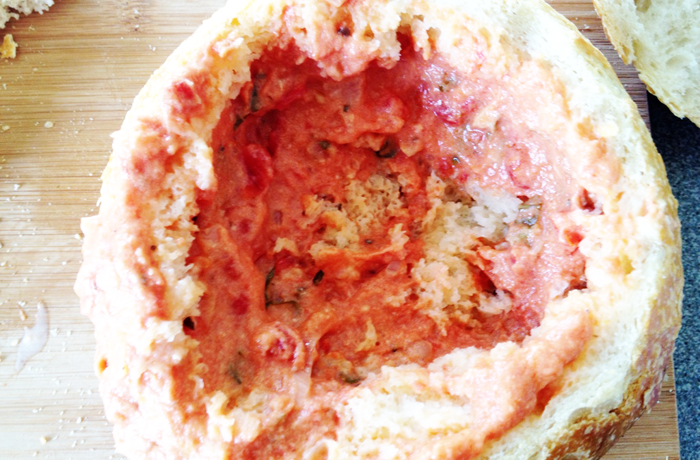 By the way, I love this part about soup in a bread bowl. That soggy, soupy bread that's left at the bottom of the bowl, just makes my whole day.
What you'll need: 3 tbs butter, 1 shallot chopped, 2 garlic cloves chopped, 3 tbs flour, 2 cups half and half, 2 cups chicken broth, 1 large can crushed tomatoes (with basil), 4-5 leaves chopped fresh basil
1.
Melt 3 tbs of butter in a deep heated soup pan.
2.
Sweat the chopped shallots and garlic in the butter until fragrant.
3.
Once fragrant, add flour to mixture to make a roux. Cook roux for at least 2 minutes.
4.
Next add the half and half and bring to a simmer. Whisk the cream until the cream can coat the back of a wooden spoon. You should be able to draw a line in the cream that is coating the back of the spoon. The line should hold for a little while.
5.
Add salt and pepper to taste. Once cream has thickened a little, add broth and tomatoes.
6.
Let simmer for about 10 minutes and add chopped basil.