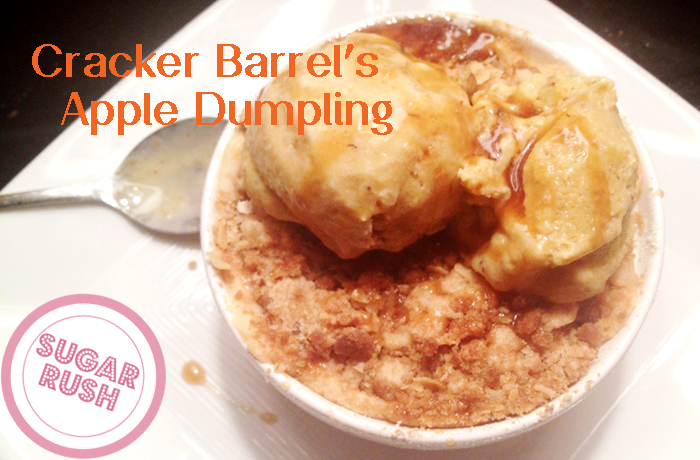 When I decided to move from Tennessee to the DC area I didn't anticipate I'd miss so many yummy places and things; Sonic's cherry limeade, a quick Hardee's biscuit or Cracker Barrel's Apple Dumpling. Oh how I love Cracker Barrel's Apple Dumpling. What's so awesome about this dessert is that you're getting an insane amount of crust at every level without sacrificing a hearty and amazing apple filling. And then it's topped off by vanilla ice cream and a caramel drizzle??? Good grief, my mouth is watering just thinking about it.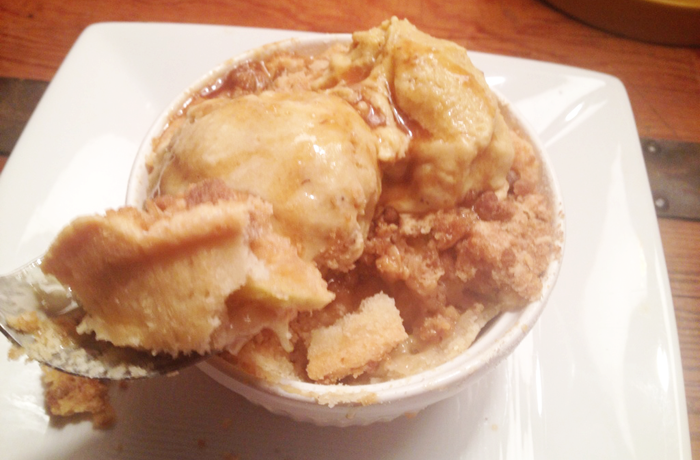 But wouldn't you know, there isn't a

Cracker Barrel

in the DC area. Sadface. But, of course you know that's not going to keep me away from my favorites. So I decided to throw a few ingredients together that I thought would be found in Cracker Barrel's pie. To my surprise, it worked! I'm definitely not a baker but I think having a prepared crust and a simple apple filling made it easy for me to tap into the baker within me. You'll note that I used only half of an apple. This recipe is just enough for one, maybe two people.
What you'll need:
½ granny smith apple, 1 tsp cornstarch, ¼ tsp cinnamon, 1 tbs granulated sugar, 1 tbs brown sugar, 1 tsp lemon juice, 1 prepared pie crust
Topping:
3 tbs light brown sugar, 2 tbs flour, 1+ tbs butter, 1 tbs rolled oats
1. You'll only be using ½ of a medium sized apple. Thinly slice the apple lengthwise and then cut each piece into multiple triangular pieces. 2. Next add lemon juice to the apples then cornstarch, cinnamon, and sugars. Set aside. 3. Line a small to medium sized ramekin with the prepared pie crust. 4. Prepare the topping. Mix sugar, flour, butter and rolled oats in a separate dish. 5. Put apples into ramekin with the crust. 6. Add the topping to the apples. 7. Bake pie in a 350 degree preheated oven for about 25 minutes. 8. Once done, immediately top with ice cream and any available caramel drizzle.