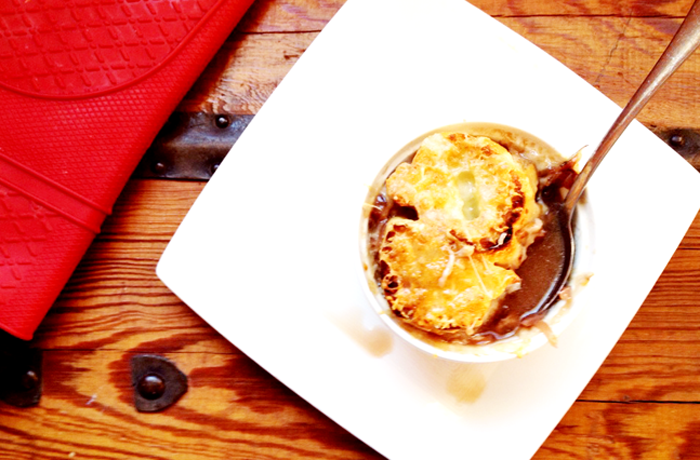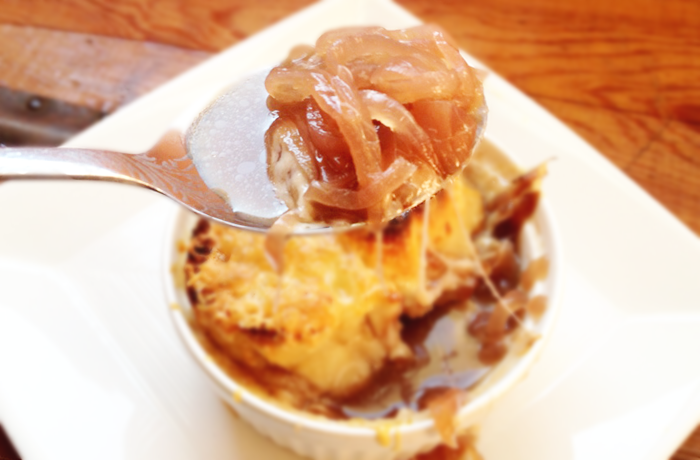 French onion soup and I go way back. Back when TGI Friday's waiters actually wore flair buttons and obnoxiously striped shirts; a young Beth Stewart had her first bowl of that onion-y delicacy. Brothy, sweet, cheesy glory was had that day.
While I love going off the cuff and creating my own version of the classics, this time I chose to go with a trusted source to guide me through French Onion Soup. That source being Alton Brown of Food Network fame. He's an easy choice as he is incredibly thorough with instruction and knowledgeable when it comes to food science. The only thing I changed about his recipe is that I exchanged the white onions for red and used a large saucepan instead of an electric skillet. If I remember this episode correctly, his skillet was quite long which allowed the onions to spread evenly. I didn't quite have that luxury and eventually ended up with a huge pile of onions to caramelize. The only thing you need to watch out for when using a saucepan is the amount of water that accumulates from the onions. I just periodically drained the excess liquid from the pan so as not to boil the onions.
Once the soup was finished of course I had to add a huge piece of french bread and a pile of gruyere cheese to my individual portion. I choose to toast my bread a little before putting it on top of my soup. Then I added some shredded gruyere on top of that bread and broiled the soup. Soooo, amazing. Please visit Alton's
recipe
at foodnetwork.com for instructions.