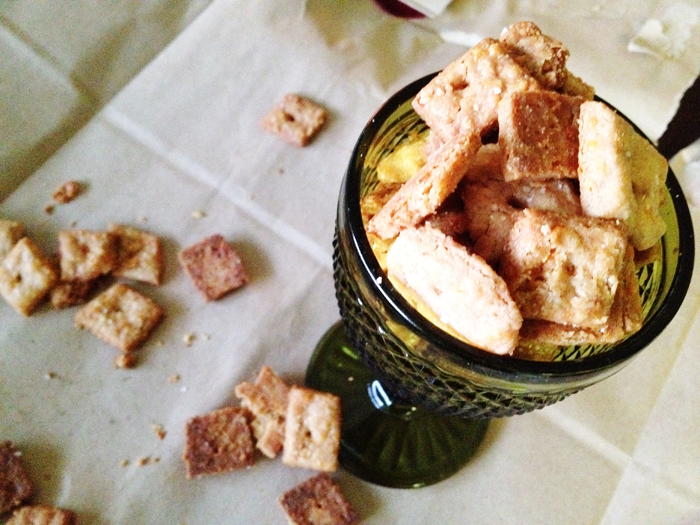 Who doesn't like snappy oyster cracker in a creamy chowder or a light saltine in a brothy soup? Crackers are among the many fun accessories soup lovers have been adorning their bowls with since the dawn of time. Maybe not the dawn of time, but I'm sure it's been going on for a while. This week I decided to fashion my own accessory in the form of a homemade cheese cracker or, Cheez-it. I started on this project saying, "I'll make a nice healthy cracker by using wheat flour instead of white." Well by the end of creating this cracker I ended up using a stick of butter. So much for being healthy. Nonetheless, all that butter made for a delicious, light (texture not calorie) snack.
What you'll need: ¾ cup wheat flour, ½ cup cheddar cheese (shredded), 1 stick butter, ¼ tsp garlic salt, kosher salt, water (tsp at a time)
1. Put all of the ingredients except for the water in a food processor and pulse until mixture looks sandy. 2. While processing, add water until the mixture starts to bind together. I barely used a teaspoon of water before the mixture binded together. 3. Form mixture into a ball, wrap in plastic wrap, and refrigerate for about 20 minutes. 4. After 20 minutes, take mixture out of refrigerator and roll out onto a clean surface using a rolling pin. You want the thickness to be less than a biscuit dough and more than a sheet of pasta. It should resemble the thickness of pie crust, perhaps. 5. Next, cut into any shape you want. I did squares by cutting the mixture into strips and then the opposite direction for squares. 6. Place squares onto a cookie sheet lined with wax paper. Sprinkle kosher salt on to each cracker before baking. 7. Bake in a 325 degree preheated oven for about 10 minutes. You want them to be brown but not too brown. 8. Let cool for about 10 minutes and enjoy.