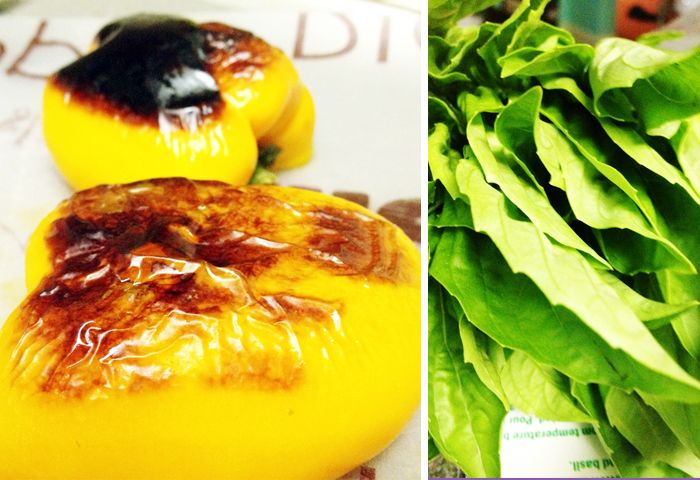 As I've let the word out to my friends and family that I have a blog, slowly the comments have been rolling in. One is, "There's nothing in your topics section." Well if you take that lovely cursor over to

Recipe Index, Supper Time or Appetizing

you'll find a few archived posts. BS is still a fairly new blog so it's going to take a while to populate all of my topics. Two was that there weren't any really simple enough recipes for preparing during the week. Well...I really like making elaborate, fun foods. It just takes me to another place and I love being creative. But, a girl does have to eat during the week. My answer to "simpler" recipes is this stuffed roasted red pepper with roasted red pepper sauce. Yes it sounds a little complicated but with a little pre-planning on the weekend, this will make a great meal during the week.
Ingredients
3-4 bell peppers, tri color
½ cup ricotta
½ cup cooked spinach
4 baby portabellas sliced
2 garlic cloves
½ onion chopped
EVOO
1-2 tsp Italian seasoning
salt and pepper to taste
¼ cups shredded mozzarella
½ small can tomato sauce
1 cup tomato puree
3 fresh basil leaves chopped
⅓ cup half and half
⅓ cup parmesan cheese
***Looking at these ingredients it doesn't look simple, but it really is. I promise.
1. Cut all of the peppers in half (lengthwise), drizzle with EVOO, and place under broiler for about 20-30 minutes.
2. While the peppers roast, heat some EVOO in a saucepan and saute the chopped onions and garlic. Once onions are translucent add the mushrooms and cook until soft and set aside.
3. Wilt spinach in heated pan, set aside and roughly chop. You can use frozen spinach if you're not up for cooking your own. Just make sure that you ring out all of the water from your thawed spinach.
4. Add mushrooms and spinach to ricotta and mix well.
5. At this time take out your peppers. Wrap peppers in plastic wrap or a ziplock bag. What you're doing is trapping the heat of the pepper making it easy for the skin to loosen from the pepper. After about five minutes remove plastic wrap and peel off skin. Set aside 1 and a half peppers for the sauce.
6. Stuff your peppers with the ricotta mixture and top with mozzarella. Place peppers in a 350 degree preheated oven for about 10-12 minutes.
The Sauce
1. Saute garlic and onions in pan heated with EVOO. Add salt and pepper.
2. Once translucent add your reserved bell pepper, chopped, to the mixture. Cook for about 3 minutes.
3. Next, add tomato puree and sauce and cook for about 10 minutes on low heat.
4. Turn heat off and blend ingredients in a blender or hand immersion blender.
5. Lastly, add parmesan and half and half. Cook on low for about 5 minutes and you're done.