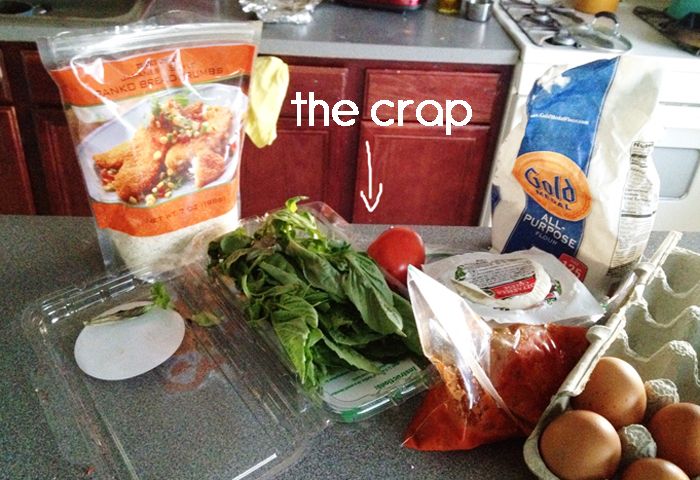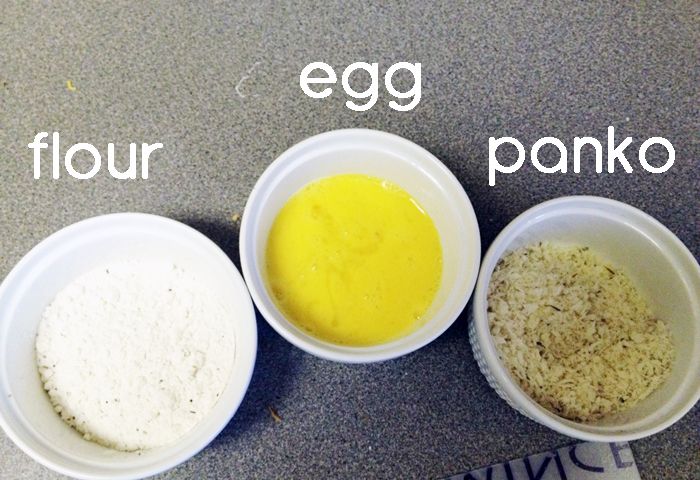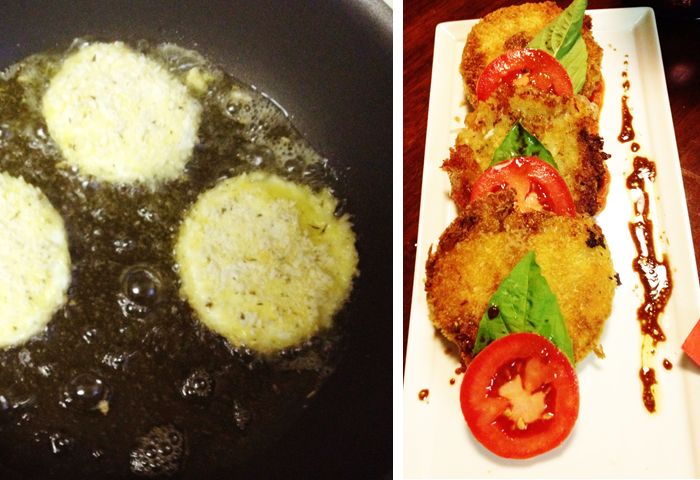 So when I'm left with the dilemma of wanting to consistently post delicious recipes on BS but have not A) planned ahead and shopped for the ingredients and B) am broke until the next day, what is a girl to do? Well, she goes shopping in her refrigerator. I'm the type of person that has all intentions of going to the grocery store and shopping for the entire week's meals but just end up going everyday for an ingredient for a new recipe idea. Because of that, I've acquired quite a bit of different ingredients. So yesterday when I was thinking of something to make for today's post I came up with a new series I like to call "Crap in my Kitchen." Basically, I have to make a wonderful meal out of whatever I find in my kitchen. I pretty much think I excelled in my first CIMK mission with this lovely Fried Caprese Salad.
Who doesn't love fried cheese? If you find that person, slap them for me because that's just insane. Anywho, I took some leftover mozzarella from the stuffed pepper post and created this masterpiece of fried deliciousness.
Ingredients
1 ball of fresh mozzarella
1 ½ cups flour
1 ½ panko bread crumbs
1-2 tsp italian seasoning
1 egg
1 tbs water
1 tomato sliced
3 leaves of basil
leftover roasted

red pepper sauce
oil for shallow frying
Quick Balsamic Vinaigrette
3 tbs balsamic vinegar
3 tbs EVOO
1 tbs honey
1 tbs dijon mustard
(put all of these ingredients together, whisk well and refrigerate)
1. Slice a medium ball of mozzarella into medium thick slices. They should look like small frisbees.
2. Prepare your dipping station. Prepare three separate bowls, one with flour, one with whisked egg and water, and the last with the breadcrumbs.
3. Season the flour and breadcrumbs with Italian seasoning, salt, and pepper.
4. First dip your mozzarella in the flour, then the egg, and then breadcrumbs.
5. Place all of your mozzarella disks (all of which have been dipped) into the freezer for about 20 minutes.
6. After 20 minutes, take the disks out and repeat steps 4 and 5.
7. Heat a large frying pan with an inch of oil. You want about medium, high heat. Once oil is heated stick the disks of mozzarella into the oil and fry each side for about 30 seconds.
8. Let oil drain off of disks before preparing your plate. Heat up your leftover red pepper sauce and place a little on a plate. Arrange mozzarella disks with the tomato and basil (i.e. Cheese, then basil, then tomato)
9. Drizzle your dressing on top and enjoy.