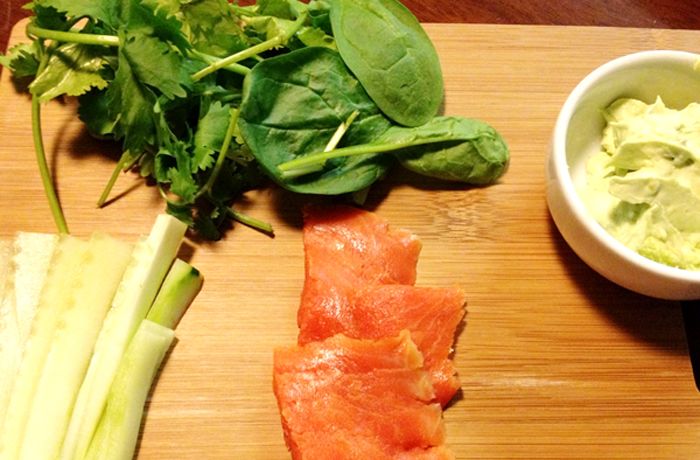 Well it looks like the Fried Caprese's, the Hot Dawgs and the Pumpkin Risottos have really caught up with me. But I'm really not looking to do a standard, bland diet that makes me actually feel like I'm on a diet. So this week I've come up with a few recipes that are rich in flavor but light in calorie. First up is my Philly Spring Roll. This little rolled up package was inspired by one of my favorite sushi rolls and this great
recipe
I found on Foodgawker. It's simple, it's yummy, it's perfect. I already feel my waste line shrinking.
Ingredients
rice papers
smoked salmon
cucumber
½ avocado
4 oz reduced fat cream cheese (room temperature)
lime juice
cilantro
spinach leaves
1. Process the avocado, cream cheese and juice of half a lime in a food processor until smooth.
2. Remove skin and thinly slice the cucumber lengthwise.
3. Follow directions for rice paper. Next assemble all ingredients on the rice paper.
**Tip: Instead of spreading cream cheese mixture with a spoon onto the rice paper, put cream cheese in a plastic bag, cut the tip, and squeeze a nice line onto the paper. This will prevent tearing of the paper.
4. Roll the rice paper and dive in. I chose wasabi and soy sauce as nice dipping sauce for the spring roll.