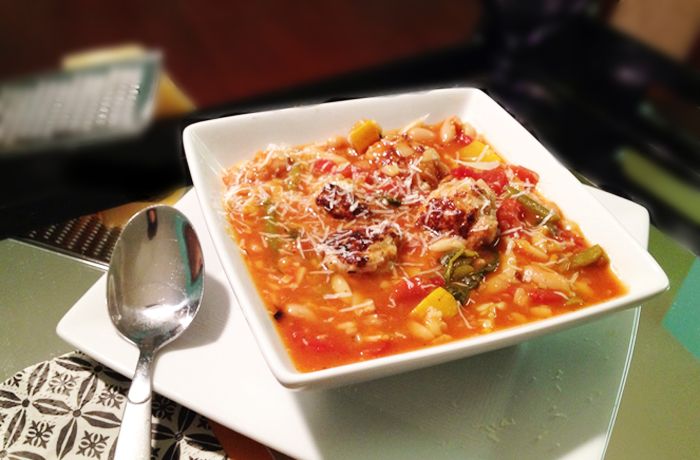 Being the busy working girl that I am, I'm always in need of something quick, simple and flavorful. The problem is I don't always have the time and patience during the week to come up with something that yummy. Well this minestrone with meatballs solved all of my problems. It's hearty and healthy and can easily be made ahead on the weekends.
1/2 large onion
2 garlic cloves
1 egg
3 slices of crustless bread soaked in ⅓ cup milk
2 tbs grated parmesan cheese
1 lb ground chicken
½ tsp Italian Seasoning
1 stalk celery
2 cans diced tomatoes
1 can cannellini beans
5 cups chicken stock
1 zucchini diced
½ cup orzo
bunch of spinach
1 bay leaf
1 tsp Italian Seasoning
salt and pepper to taste
EVOO
1. Use a food processor (or by hand) to chop the onions and garlic. Divide the chopped ingredients in half.
2. Saute one half of the garlic, onion mixture in some EVOO. Let cool.
3. Soak the bread in the milk. Then ring the milk out of the bread.
4. In a separate bowl combine all of the first eight ingredients together and roll out into meatballs.
5. In a large saucepan, saute the meatballs in EVOO. I would only add about five or so at a time.
6. Once meatballs are done set aside. Saute the remaining onion, garlic mixture along with the chopped celery until translucent.
7. Next add the tomatoes, chicken stock, Italian seasoning and bay leaf. Bring to a boil.
8. Once at a boil, add the beans and simmer for 20 minutes.
9. Next add the orzo and cook for 10 minutes. Then add the zucchini.
10. Cook for another 10 minutes and finish the soup with the spinach.
11. I added a few of the meatballs at the end to soak up some of that great broth.
Enjoy!