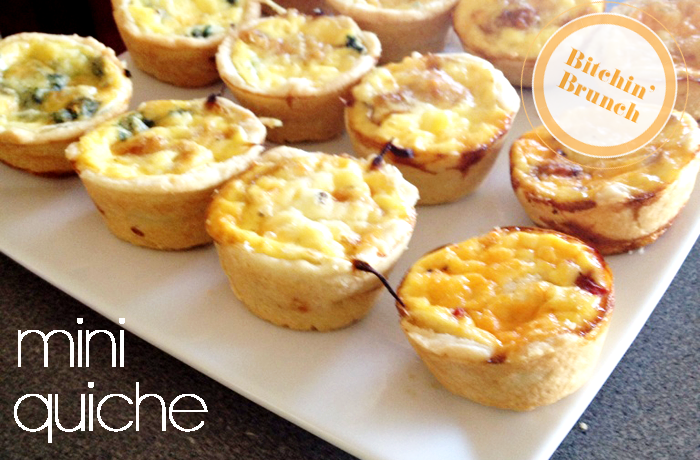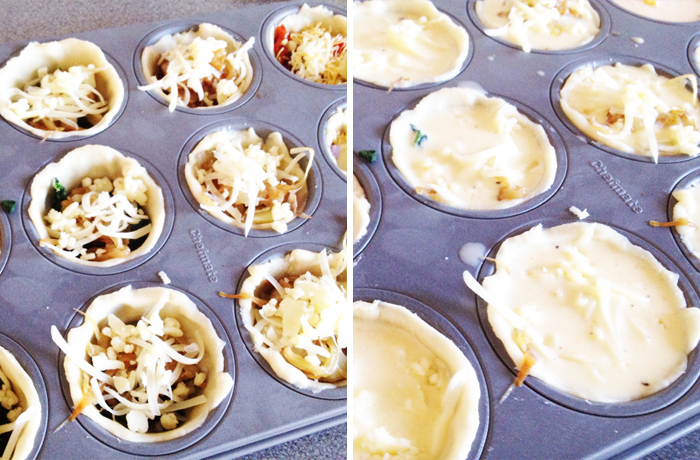 Who doesn't love brunch? Seriously, tell me who doesn't love brunch? Just think about it. Waffle bars, breakfast meat three ways, pasta, home fries and mimosas? Did I mention mimosas? Mimosas warrant a double mention in my book. Well, I'm always in the mood for a great brunch but I don't always have the energy to make it to a good brunch spot let alone the cash for those lavish buffets I love so much. So I'm bringing brunch to my kitchen.
On Sunday I made these lovely mini quiches, each with a different flavor; spinach, southwestern, and bacon. I will have to say I surprised myself with this one. I've never really been an egg person. The smell that permeates the house as you scramble an egg or that runny, yellow river of yolk escaping a poached egg as a fork pierces its flesh, just gags me. But something about baking the egg, filled with whatever crumbles your cookie, really worked for my taste buds.
Ingredients
4 eggs
1 yolk
½ whole milk
½ half and half
salt and pepper to taste
1 prepared pie crust
Toppings
gruyere shredded
white cheddar shredded
mexican cheese shredded
chopped spinach
roasted bell peppers
roasted red onion
caramelized onion
diced, cooked potatoes
chipotle adobo
1. Roll out the prepared pie crust according to your package's directions. Use a cookie cutter or drinking glass to cut out rounded shapes. Line a cupcake tin with the the rounded shapes, polk holes in each tin, and freeze tin for about 20 minutes.
2. Take tin out of the freezer. Put toppings into each tin. I chose to have 3 different types of flavors. A) gruyere, cheddar and spinach B) gruyere, cheddar, bacon, potato and caramelized onion C) roasted red pepper, roasted onion and mexican cheese.
3. Mix the wet ingredients together and add salt and pepper. Divide the egg mixture in half. In one half of the mixture add a dash of nutmeg.
4. Pour about ⅔ cups of this nutmeg/egg mixture into the tins with spinach.
5. Take the mixture without nutmeg and pour ⅔ cup into the potato, bacon tins.
6. If you have any egg remaining, add a little adobo sauce that is usually in canned chipotle. Add this mixture to the mexican cheese and roasted pepper tins.
7. Put the cupcake tins into a 350 degree preheated oven and cook for about 28 minutes.
8. Take those babies out, let them cool, then sink your teeth into them like you've never eaten before.