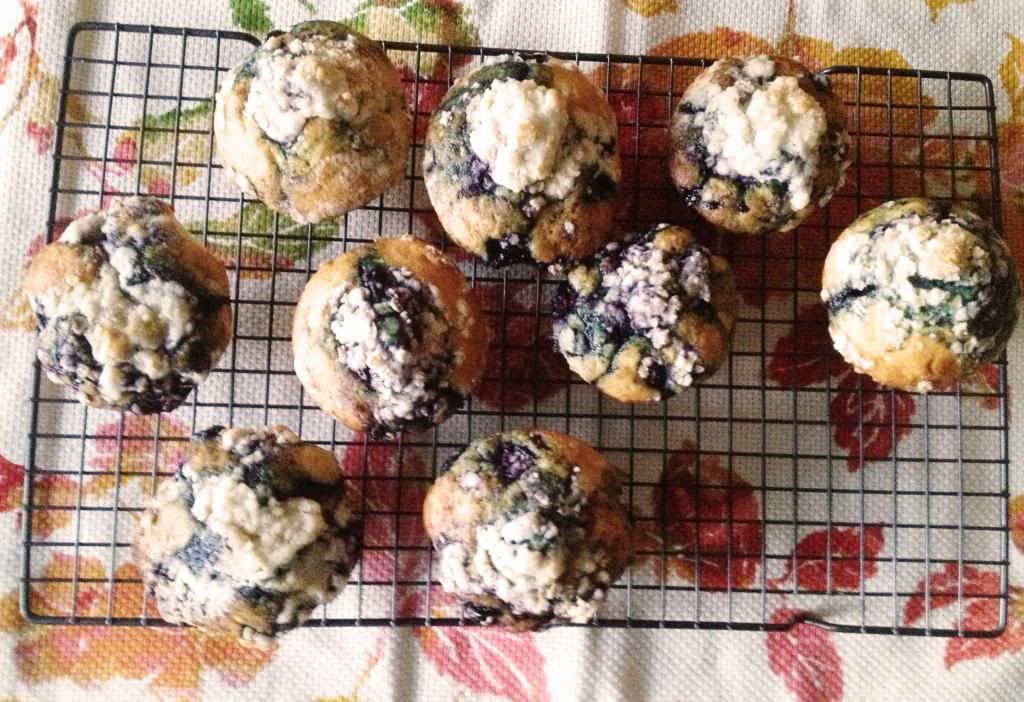 Oh my have I missed blogging as of late. That pesky job of mine is getting in the way of all of my tasty experiments. I guess if I got a little organized I could be a little more consistent. But what's the fun in that?? Nonetheless, I did muster up some energy to make these oh so blueberry, blueberry muffins.
I've caught the baking bug for some reason and have been itching to come up with some delicious confections. My first big experiment are these blueberry muffins. Why blueberry muffins? Well, I had some buttermilk on the verge of expiring and a bunch of blueberries on hand that I've forgotten I purchased. So when life hands you a bunch of blueberries and almost spoiled milk, make muffins!
2 cups all purpose flour, 2 tsp baking powder, 1 tsp baking soda, 2 eggs, 1/2 cup sugar, 4 tsp lemon juice, zest of one lemon, 1 tsp vanilla, 1 cup buttermilk, 1/4 tsp salt, 1/2 stick melted butter, 1 cup blueberries
1 cup blueberries, 1 tbs sugar
1/2 cup flour, 3-4 tbs butter, 2 tbs sugar
The blueberry goo is simply a blueberry syrup that you are going to add to the top of each muffin. To prepare put a cup of blueberries and 1 tbs sugar in a saucepan. Cook on medium high heat and still to prevent burning. Let cook until blueberries turn into a syrup. Turn heat off and let stand until ready to add to muffin mix.
1. Combine all of the dry ingredients except for the sugar in a large bowl. 2. Combine all of the wet ingredients in a separate bowl. 3. Add wet ingredients to the dry ingredients and combine. I used a stand mixer to combine the ingredients. 4. Add fresh blueberries to the bowl. 5. Place about 1/4 to 1/2 cup of mixture into each muffin tin cup. You should have enough mixture for 12 muffins. 5. Take blueberry goo and add about 1 tbs to each muffin. 6. Take a toothpick and swirl the goo around the mix. 7. Combine 1/2 cup of flour, butter and sugar in a separate bowl. 8. Add about 1-2 tbs of the crumb mixture to each muffin. 9. Bake in a 400 degree preheated oven for about 20-30 minutes. Each oven is different so I'd check the doneness of the muffins about 20 minutes in.