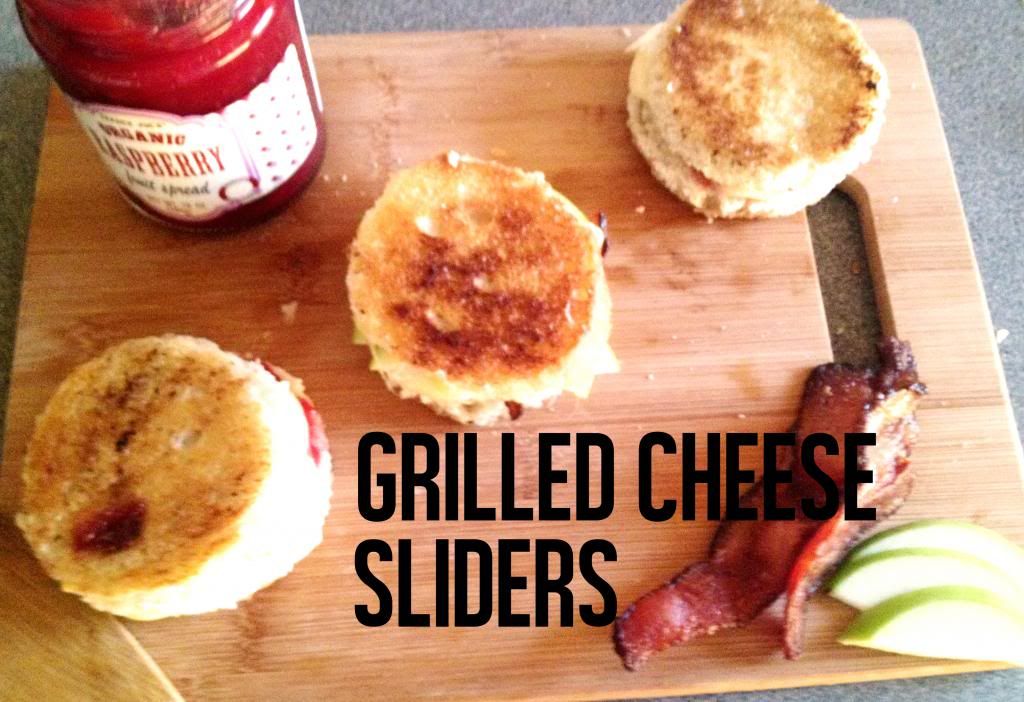 Grilled cheese has to be on the list of great bar food. It's got the greasy, cheese something necessary to soak up all of that booze you've been drinking throughout the night. Now I didn't want to do your typical American cheese, grilled cheese. I decided to get a little fancy on ya. First, I made the grilled cheese a small slider. Next, I did a brie and raspberry jam combo and the other a cheddar, apple, bacon delight. Each is so good in its own right. The brie is smooth with a little extra sweet, tart coming from the rasberry. And the other slider is smokey, tart and oh so cheesy with that nice white Wisconsin cheddar. I can already tell this is going to become a new staple in my home.
Brie cheese, medium-sharp cheddar cheese, raspberry jam or spread, 1 granny smith apple, bacon, sourdough bread, butter, round cookie cutter
1. Use a cookie cutter or the top of a Ball jar, like I used, to cut small rounds from the sourdough bread. You'll need six rounds to create three sliders. 2. Prepare your fixins'. Thinly slice some brie. Get a few shavings or shreds from the cheddar. Fry the bacon and slice the apple very thinly. I prefer a granny smith apple because the tartness in it adds something different to the saltiness of the bacon and cheese. 3. Heat a medium skillet and melt some butter. 4. Spread raspberry jam on both halves of the bread and sandwich some brie in the middle. Place on the griddle. 5. Place the slice cheddar in between one set of bread. Place in the griddle as well. 6. Once both sides of the sandwiches are done, set aside on a plate. 7. With the cheddar sandwich, immediately open and place the apple and bacon slices. I chose not to put the apple before I cooked the sandwich because I did not want to run the risk of having soggy apples. 8. Repeat either type of sandwich with the last few slices of bread.