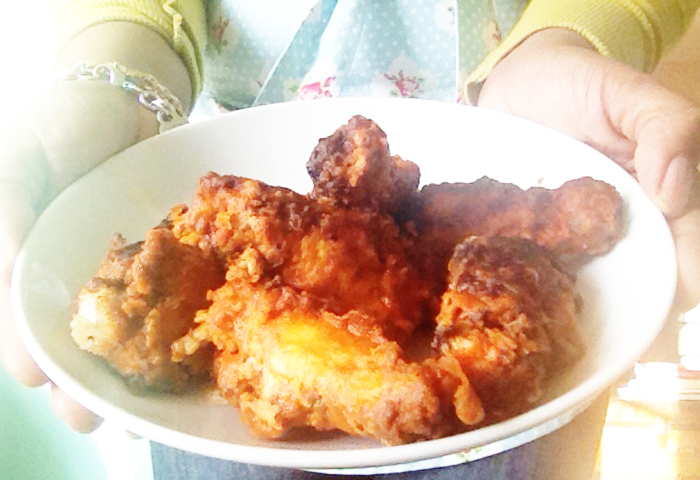 I love hot wings anyway you slice it. I love them in a wrap. I love them on a bun. I could eat them in a box. I could eat them with a fox. Whoa, looks like someone channeled their inner Dr. Seuss.
As you can tell, I really like wings. In this recipe I decided to take your traditional wings and add a little something different, sriracha. Yeah, I know sriracha is all the rave in the foodie world but to tell you the truth I never really gave the sauce a second look. It wasn't until my co-workers lost their minds when we decided to stock the fridge with the stuff, that I decided to give it a try.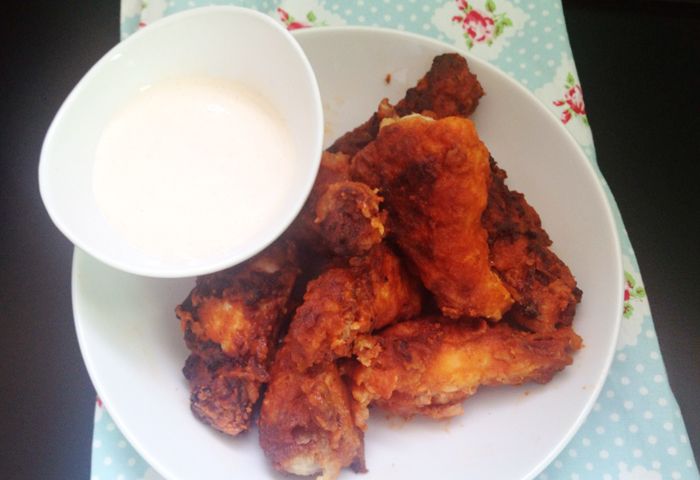 1 lb chicken drumettes, 2 cups buttermilk, hot sauce (Texas Pete), 2 cups flour, Beth's Chicken Seasoning (salt, garlic powder, onion powder, paprika), 3 tbs butter, ¼ - ½ cup sriracha
1.
Wash chicken in cold water and dry with paper towels.
2.
Put chicken into a bowl and pour enough buttermilk to cover chicken.
3.
Add a couple of dashes of hot sauce to the bowl, mix ingredients together, and refrigerate for a minimum of 3 hours. I refrigerated them overnight.
4.
While chicken is marinating, prepare your dredge. Put the flour on a plate or plastic bag. I used a plastic bag. And season the flour with some of my chicken seasoning mentioned in the ingredients list.
5.
After a couple of hours, take the chicken out of the fridge and drain excess buttermilk off of each drummet.
6.
Next, season chicken with Beth's chicken seasoning and place in the bag with flour.
7
. Cover each drummet with flour and let sit on a cooling rack for a minute or two.
8.
Next, fry your chicken in a pan that has oil preheated to about 350 degrees.
9.
At this time preheat an oven to 350 degrees.
10.
Place chicken on a cooling rack, once done, while you prepare the sriracha.
11.
Melt butter in a microwave.
12.
Add sriracha and a few dashes of hot sauce to a bowl with the melted butter.
13.
Toss chicken in the sriracha, butter mix and place chicken on an aluminum foil lined cookie sheet.
14.
Bake in oven for about 5 minutes to allow the sauce to stick to the chicken
15.
After 5 minutes, take that chicken out of the oven and devour all of it. No sharing. :)